he Tipbook series is a set of guidebooks on music and musical instruments which, in addition to the two reviewed here, includes acoustic guitar, cello, violin and viola, trumpet and trombone, drums, saxophone, and a number of others either available now or in preparation. Future volumes will branch out into such fields as composition, arranging, theory, and home recording.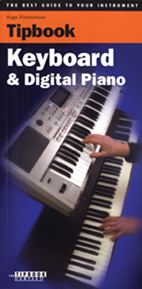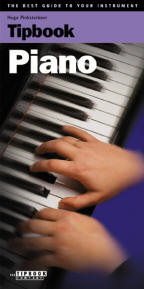 This comprehensive and superbly organized effort comes to us from The Netherlands. Tipbooks are conceived, designed, and illustrated by Gijs Bierenbroodspot, written by Hugo Pinsterboer, and distributed in the United States by Hal Leonard Corporation.
Each volume is a slender paperback, roughly four by eight inches, comfortable to handle, visually attractive, and eminently readable, with some ten or fifteen concise chapters. Each chapter consists of a string of bold-face headings coupled to brief paragraphs ('Tips') which explain or discuss that item, and—as a welcome bonus--many of these units are accompanied by 'Tipcodes': keywords that, when typed into a box on the Tipbook website, boot up short videos which explain the appropriate subjects graphically and with sound.
The information given in these short paragraphs is necessarily brief, but it is not perfunctory. The authors acknowledge numerous sources which include technicians, manufacturers, teachers, performers, schools, and businesses, and their knowledge and advice seems well researched and sound.
Each volume begins with a short introduction to the subject at hand, followed by a two-page primer entitled See What You Read with Tipcode, which gives the reader the simple instructions for using the aural/visual aids on the website. Following the last chapter, there is a Glossary which doubles as an index by listing in parentheses the page numbers on which the item is discussed. Finally, there is a listing of all Tipcodes used and where to find them, followed by names of magazines, books and websites recommended for further information (PEP is No. 1 in Tipbook Piano).
Tipbook Piano devotes several chapters to nuts and bolts information such as the differences between grands and uprights, the piano's acoustical properties, mechanisms, history, and maintenance, and a brief tour of a piano factory with a listing of the major brands. But there are also chapters on learning to play, finding a teacher, buying or renting an instrument, and even good hints on how to test a new or used piano for tone, regulation, voicing, and wear. The Tipcodes are excellent. In explaining the mute pedal on certain vertical pianos, for example, the website video shows the actual mechanism at work inside the piano and plays the actual sounds produced both with and without the mute.
Keyboard and Digital Piano takes on the challenging task of describing the development of synthesized music, beginning with the 1934 Hammond organ and touching on all the major innovations since. MIDI, RAM, ROM, sampling, layering, multi-media, analog vs. digital, and many other topics are discussed and explained clearly, with sections devoted to amplification, sound manipulation, keyboard types, connections, and so on. Major brands and their characteristics are compared, and much space in the early chapters is devoted to buying an instrument, what to look for, and the elements which make products differ in quality, versatility, and price.
The Tipbook series is a splendid addition to the music field. The most striking characteristic, to this reviewer, is the way in which the material combines conciseness with solid content. A short, "how-to" manual always runs the risk of being shallow; Tipbooks avoid that pitfall adroitly and consistently. We highly recommend this series.
Dr. William Leland
Tipbook Series, distributed exclusively by the Hal Leonard Corporation (www.halleonard.com), is available at music stores, book stores and other outlets. List price: $ 9.95. WWW: http://www.tipbook.com E-Mail: info@tipbook.com. Tipbooks are also available in Dutch, German, French, and Spanish. Swedish and Chinese volumes will be available soon.