Ask The Teacher
Do you have a question about the piano, piano lessons, or music generally? You can get it answered here by a real live piano teacher! We'll pick some of the best questions and provide the answers here. We'll even show your name and the city you live in so you can tell your friends! Just send us your first name only, age, city, state, and country (if you live outside the U.S.) and we'll do the rest.
---
A Note for Parents

Because the Internet is in constant flux by nature and standards vary from individual to individual, the content of the sites linked in the Cool Places section cannot be guaranteed to be appropriate for your children. We have examined all these sites and found them to be generally wholesome and educational for most kids. We advise all parents to look at the sites linked if they have any questions. Please let us know by e-mail if you find any of these links to be inappropriate and why you find them so.


The TARDIS

is trying to find the

year 1752.

We are to meet with Domenico Scarlatti, at the palace of Queen Maria Barbara, in Madrid, Spain.
---
Tip of the Month - Psst! Don't tell your piano teacher we said this!
Music is great, isn't it? But learning the piano can be hard work. You want to do it, of course, but sometimes … (sigh) ... you need a break. I know how you feel! Have you ever thought of teaching yourself another instrument? A really easy instrument you can play just for fun—no having to practise scales, no having to learn hard classical music that makes your brain tired sometimes. Ask Mum or Dad if they would buy you a recorder, an ocarina, a tin whistle, a xylophone/glockenspiel or a second hand guitar next time they're looking at buying you a gift. Better still, save your pocket money to buy one of these cheap, easy instruments yourself. Most of these instruments come with fingering charts, and are easy enough to play right from the beginning. The guitar is a little harder, but if you buy a chord book and persevere with developing calluses (ouch!), you can accompany yourself singing. Sometimes a break from all our serious hard work is refreshing. And then we can get back to the 'real' stuff with new enthusiasm!
---

These are places with neat pictures and sounds or they might be just plain weird! Check it out!
---
Got a report to write on the piano? Want to learn a little more about it? Need to find out who Charles Tomlinson Griffes (or almost any other composer) was? We have a whole shelf full of free articles that should help:
---
Lots of Piano Music and Cool Sounds
Like piano music? Want to hear some? Well, The Audition Room has hundreds and hundreds of files of famous (and not so famous) composers' piano music. Jump over there and take a listen. You'll be glad you did!
Take Your Own Trip with Dr. Who
If you like the sounds of the TARDIS and the Doctor in our Meet the Composer interviews, you can download your own sounds for free and play them on your own computer. These come from the BBC series, Doctor Who, and span many of the Doctor's regenerations. Go get 'em for free!
The Taz Speaks! (Sort of)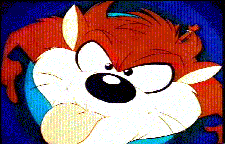 From the Warner Bros. cartoon series Taz-mania, Taz grunts it like it is! If your browser doesn't let you play sound directly, you can get the files by turning on your browser's Load to Disk or Save to Disk function and then play them offline later in the Windows Media Player or similar player program. These make fun Windows sounds, too. Just download 'em, go to your Windows Control Panel, Click Sounds and then set these to play. They're way cool!
Greetings from Taz (108K WAV)
Taz takes a piano lesson (37 K WAV)
Taz tells you what he thinks about piano lessons (41K WAV)
Taz does the classics (65K WAV)
Free collection of over 30 great Taz sounds, including all the ones above! (993K self-extracting archive)