Ask The Teacher
Do you have a question about the piano, piano lessons, or music generally? You can get it answered here by a real live piano teacher! We'll pick some of the best questions and provide the answers here. We'll even show your name and the city you live in so you can tell your friends! Just send us your first name only, age, city, state, and country (if you live outside the U.S.) and we'll do the rest.
---
A Note for Parents

Because the Internet is in constant flux by nature and standards vary from individual to individual, the content of the sites linked in the Cool Places section cannot be guaranteed to be appropriate for your children. We have examined all these sites and found them to be generally wholesome and educational for most kids. We advise all parents to look at the sites linked if they have any questions. Please let us know by e-mail if you find any of these links to be inappropriate and why you find them so.


---
Tip of the Month -
So easy you can do it with your eyes closed!
How do you memorise a piece of music? A little at a time. First, divide your piece into it's form. Example, if it's in binary, you'll have theme A and theme B. If it's ternary, ABA, Rondo form AbAcA. Ask your teacher for help if you need to. Pretend that each theme is a piece all in itself. First you're going to learn theme A. Once you have memorised theme A, work on theme B, and so on.
Do you have theme A there? Great. Divide this theme into sections so that you concentrate on only two or three bars at a time. Play these bars four times in a row, singing along with the notes as you do so. The fifth time you play these notes, close your eyes—but continue to sing! How did you go? Did you get it right? Great! Close your eyes again, and this time, play the piece three times in a row. That's right, with your eyes closed! Singing. The third time, play without singing.
Now if you had troubles, don't worry. Go on to the next two or three bars and give these a go. Play hands separately. Don't play too fast. Remember to sing. Remember the pattern:
4 times, eyes open. 5th time, eyes closed. Singing the notes as you play.
THEN 2 more times eyes closed, singing. 3rd time, eyes closed, not singing.
Move on. Even if you made mistakes. Why? Because you'll be working on this for at least a whole week. You don't want to beat yourself up about getting it wrong. It will only make you anxious next time you try that part. So stick to the pattern. Two or three bars at a time. And remembering to sing the notes as you play! Then just like a jig saw puzzle you can slowly put the pieces together.
---

These are places with neat pictures and sounds or they might be just plain weird! Check it out!
---
Got a report to write on the piano? Want to learn a little more about it? Need to find out who Charles Tomlinson Griffes (or almost any other composer) was? We have a whole shelf full of free articles that should help:
---
Lots of Piano Music and Cool Sounds
Like piano music? Want to hear some? Well, The Audition Room has hundreds and hundreds of files of famous (and not so famous) composers' piano music. Jump over there and take a listen. You'll be glad you did!
Take Your Own Trip with Dr. Who
If you like the sounds of the TARDIS and the Doctor in our Meet the Composer interviews, you can download your own sounds for free and play them on your own computer. These come from the BBC series, Doctor Who, and span many of the Doctor's regenerations. Go get 'em for free!
The Taz Speaks! (Sort of)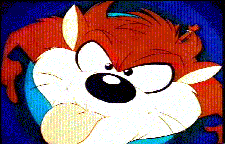 From the Warner Bros. cartoon series Taz-mania, Taz grunts it like it is! If your browser doesn't let you play sound directly, you can get the files by turning on your browser's Load to Disk or Save to Disk function and then play them offline later in the Windows Media Player or similar player program. These make fun Windows sounds, too. Just download 'em, go to your Windows Control Panel, Click Sounds and then set these to play. They're way cool!
Greetings from Taz (108K WAV)
Taz takes a piano lesson (37 K WAV)
Taz tells you what he thinks about piano lessons (41K WAV)
Taz does the classics (65K WAV)
Free collection of over 30 great Taz sounds, including all the ones above! (993K self-extracting archive)