The May 2003 artist/educator:
Ms. Deborah Poppink, Pianist, Performer, Song Writer and Educator, Los Angeles, CA USA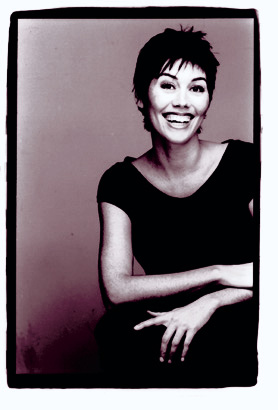 Deborah Poppink is a singer/songwriter/educator. She is an all round musician and one of the top piano teachers in Los Angeles. She teaches privately in West Los Angeles and specializes in inspiring her students to follow their unique musical interests. She includes songwriting and singing along with technique, reading and theory.

Her songs have aired on national television (X-Files and Jack and Jill) and in feature films (Love Thy Neighbor). Deborah is signed with BUG Music, BMI and is a member of NARAS. Deborah recently created a television show for children called The Didi Pop Show for which she wrote 11 original children's songs. Currently, you can hear her voice in national television commercials for Big Red chewing gum.

Deborah sings for children with cancer at the Children's Hospital in coordination with The Neil Bogart Memorial Fund. She also writes and produces individualized songs for kids with illnesses through the Songs of Love Foundation. Giving to the children¹s community in these ways brings her and the children joy, inspiration and healing.

She attended U.C. Berkeley where she studied Music and Social Science. She graduated with a B.A. and has refined her musical skills further by attending classes at UCLA, Dick Grove and The Songwriter¹s Guild and by traveling around the world, writing with her guitar and her piano. Deborah is the owner of TreeTop Records, an independent record label and PoppinkSongs, her publishing company. She is currently performing to support the release of her first record, "Chasing Lunatics".

What made you go into music?

I received a little white electric organ from my great-aunt when I was 3. I loved playing it and then moved to the piano. When I was 9, my father brought my an acoustic guitar. I've always loved to sing and dance. The way I look at it, I didn't really choose to go into music. Music chose me.



Who was the most influential person in your years as a student of the piano and why?

My piano teacher Meg Campbell. She was an MGM Show Girl in the 1940's. She was a composer, a vocalist and played piano and violin. She introduced me to a wide range of music, from Mozart to Joplin, from Gershwin to Bach.



What do you enjoy most about making music?

There are really two sides to it - the internal and the external. I love sitting down with a new piece...developing and exploring it, getting the kinks out and experimenting with phrases and dynamics. On the other side, I love connecting with people through music, whether I am performing, teaching or jamming with them.



Is there a"best" way or "method" to learn to play? Any that should be avoided?

First off, just sitting at the piano and pressing down keys - experimenting and listening is not only important, it's fun. Second, find a teacher that you like. Third, listen to music a lot and try to play with records in any way you can. I would avoid any negativity around practicing music (arguments, guilt, threats). This only connects bad energy to the process of making music. Keeping it fun and positive is crucial when learning to do anything in life.



What "deficiency" in training or technique do you most often find in students of the piano?

Technically, I find many pianists need more practice with their timing. Metronomes and counting aloud are the best tools to help with this. Emotionally, I feel many pianists "type" out the notes without feeling it in, and thereby expressing, through their hearts.



What kinds of things would you tell students of the piano and their teachers to try to avoid?

Avoid negativity. Be aware when you get frustrated and take a walk - or play pieces in creative ways to break up the energy while practicing. Avoid disapproving and over-structured teachers.



What advice would you give to students of the piano?

Have fun. Find a teacher who has a good infrastructure built into their teaching style - but find a teacher that also allows room to let your personal passion for music soar. Work with someone who is open to and encourages you to try new things, and play new styles... from Samba to Irish Music - from Eminem to Norah Jones. It's all so good!



What differences, if any, do you see in the teaching approach for jazz piano vs. that for classical piano?

Jazz is about interpreting, learning chords and voicings and improvisation. Classical focuses more on technique and reading. It is all valuable but the combination of the two sides, for me, is magical.



Can you give us your reflections upon music as a career? Specifically, what do you like most and what do you dislike most?

Be prepared for rejection and be prepared for praise. The most important thing is to believe you are doing what you are meant to be doing and stick with it. There will be hard days when you feel like giving up. There will be amazing days when you are on top of the world. But remember the most important thing - you are doing music as a career because you love music - whether it's playing, performing, writing, publishing, marketing or pitching songs. Do it because you have to.



What does it take to be a "successful" musician or music educator?

Practice, communicate, feel, trust, lead and play.



You teach voice and several other instruments in addition to piano. How does your teaching approach vary from piano to voice to, say, drums?

With piano, I start with scales and chords, duets and ear exercises. I also introduce reading right away. With drums, I use the counting exercises I learned from my professor from U. C. Berkeley, CK Ladzekpo. He is a master drummer from Ghana and I incorporate polyrhythmic exercises right from the start. Also, listening and singing as much as possible.

Teachers and students have a great variety of new media available these days to aid in teaching and learning. Do you use such aids in your own teaching and, if so, how do you integrate them with your teaching?

When my students need lyrics, chord charts or background on specific pieces or genres, I send them to the internet. It's a great resource. I have also created a play-along CD for pop guitar which seems to be fun for students.



You have composed and recorded numerous children's and pop songs. What advice would you give to those out there who may have an "itch" to compose and record their own music?

Write songs, study songs, write more songs. Find a genre you like and work with it until your ideas and words start flowing and expressing your unique perspective. Hooking up with other writers for co-writing is also great. There are songwriter organizations and communities all over the U.S., though I am not sure what is offered in Europe and on other continents. As far as recording goes, I started with a 4-track and recorded song after song after song until I needed to expand. Get help. Talk to people, make friends with people who like music and recording and who might be able to help you sort it all out. Also, people that sell recording equipment have been very helpful to me. Ask for their phone numbers when you buy gear, and see if they are available for private tutoring and/or technical support.



How do you balance the time and emotional demands of an active performing, teaching, writing and producing career?

I meditate, keep a journal, dance and try to go to the beach whenever I can. Hanging out with friends and seeing movies. It's not easy to keep it all afloat sometimes. When I burn out with my teaching, I switch up the curriculum and by doing so, I not only inspire my students, I inspire myself!



What was your most memorable performing experience and why?

Playing in Austin last week was amazing. A vivacious and energetic crowd really makes my job on stage a delight. Performing in Turkey and in Thailand. For a king in Bali. Teaching the son of a princess how to play chopsticks in Vietnam touched my soul. Singing to the kids with cancer at the Children's Hospital - now that makes me feel like I am here for a purpose - not to play the correct notes, but to touch and heal with the music I create. There have been so many moments. I am lucky to have had them.



Can you tell us a little more about your television series project, the Didi Pop show?

The Didi Pop Show is an educational, entertaining TV show for kids from 5-9. I've written two episodes, 12 original songs and pitched it to Disney. Unfortunately, at this time, there is not a lot of money and budget for kid's programming. Networks have other priorities that seem to generate lots of income... like American Idol and The Bachelor. When the time is right, I'll pitch it again. It's a great show and kids need an imaginative, inspiring and safe place on television!



Do you have a favorite pianist(s) and, if so, what attracts you to that person's performances?

I love Oscar Peterson - he's technical and fast - but man, does he swing. I like Eddie Palmieri and Eliane Elias. I also like Diana Krall and Michel Camillo. I must also add Elton John, Paul McCartney, John Lennon and Carol King - as they have influenced my songwriting tremendously.



What can we do as musicians to interest more people, children in particular, in music?

Play them CD's! Dance and sing whenever possible. Rent musicals and go see live music. Engage in the magic of music.

What do you do to encourage your own students to practice? What can parents do?
First off, I try to make sure my students are excited about the material they are learning. I might give them examples of different ways to play a piece. Whether it's a Gershwin Prelude or a Beatles song, there are many ways to approach a piece. Giving them the freedom to explore and the permission to experiment keeps students motivated and inspired to practice.

Parents can be present while practicing goes on. Parents do not have to be there every minute of every practice session, but sitting in once in a while and taking an active interest in the child's process makes kids feel satisfied and valued. Parents can ask questions like, "I see you are doing your scales. What is a scale anyway? How is a C scale different from a G scale?". Or, "What's the difference between a treble clef and a bass clef?". Or, "What's your favorite part of the piece you are playing now?". These are great interactive questions and result in conversation and communication. They also let the child be an expert and actually teach the parent something. (Now that is a cool feeling - when you can teach your parents something - like what a staccato dot is!)



Pretend this is your personal soapbox. What would you like to say to students, parents, and teachers of the piano?

Have fun, enjoy life and be brave about touching the keys and jumping in. There are no wrong notes! And, stay with it!
You can learn more about Ms. Poppink's teaching, singing, song-writing and other projects by visiting her web site at www.debpop.com.