As far as we have been able to determine, Jump Music, the publisher of the Piano Discovery System, is no longer in business. PDS is still available from some third party suppliers, so we will maintain the review in the near future. Be advised that support is no longer available for PDS. However, we have recently found a tech support archive for JumpMusic products at web.archive.org. Owners of the PDS systems can consult this for help.

PDS 3.0 exhibits a font problem with Windows XP and Windows 2000. A fix for this is available and is reviewed on another page on the site.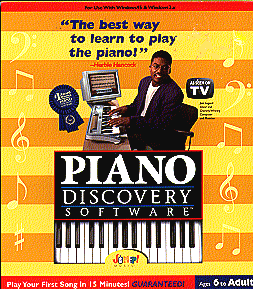 The opening screen takes you to Discovery Island, the place to start your musical learning adventure. You can begin your journey at the Schoolhouse, the Practice Room, the Performance Hall, the Arcade, the MIDI Studio, or the Jam Stage. An Information tent and Administration Building are also located on Discovery Island.
The Schoolhouse is where new students can learn to play the piano in an interactive self-paced music course. Students can listen to the narrated instructions of two teachers as they guide you through beginning piano lessons at the Schoolhouse . Each lesson is introduced by the teachers giving basic historical information about the new piece, listening to the new piece played correctly, and watching a video demonstration of the piece (a new feature in this version). The video clips help reinforce fingering, chords and other tricky musical concepts. Paul and Diane (your Piano Discovery host teachers) also give brief descriptions of the proper technique required for each new piece of music. This version seems to provide much more interaction with students than in version 2.
At the end of each chapter (some chapters have many lessons) students get to be the featured soloist in the Performance Hall with the Discovery Island Orchestra. You can perform the piece with both hands as written or with just the right or left hand separately. You may choose any tempo. Students like the thrill of playing with an orchestral accompaniment after working hard learning a new piece.
Students have the option of visiting the Practice Bungalow, a place where students can continue working a piece of music that might be giving them trouble, or work on other pieces at the same difficulty level. The Practice Bungalow provides an opportunity for students to work on a piece hands separately, hear a song played correctly, or just play along with the teacher. Student improvement is notated in personalized graphic reports.
The Arcade now has two new games for chords and rhythm skills. The three games you may choose from are Rhythm Arcade, Shooting Gallery, and Chord Game. Though the games at the Arcade are fun and educational, they do not seem as challenging or exciting as some games found in other educational music software. My students had fun in the Shooting Gallery, but rather quickly became tired of the game.
While visiting Discovery Island you won't want to miss a stop at the Studio, a recording studio complete with sixteen tracks and all the general MIDI sounds. It is fun to record pieces that you have learned at the Piano Discovery Library, or even record your own composition. Other MIDI songs on disks can also be loaded, played and edited at the Studio too. The Jam Stage takes recording one step further by allowing users to play along with a band.
The only problem found in testing was that the keyboard and the program did not always seem to work in sync. If a student played the notes exactly as written in perfect time, it often said "try again". If they played it all wrong, sometimes they got applause, and "well done". In consultation with the manufacturer we learned that this version of the program has been modified from version 2 to be more forgiving in the early lessons than in the later ones, as a means of encouraging the student and avoiding frustration from dealing with the relentless accuracy of the computer clock.
This new CD-ROM version of the Piano Discovery software has expanded the content from the 2.0 version and is much more interactive. The graphics and animation are more colorful and exciting. Video clips add a new dimension for students to watch in a frame by frame process or in real time. These features help make this version one you would want to upgrade to, or one you might strongly consider buying if you don't already own it.
Piano Discovery System, Version 3, List Price: PDS3.0 software (Years 1,2,3 and Kids) sell for $49.99 each. PDS3.0 Volumes (a volume is half a year's worth of content) comes with a songbook and sell for $29.99 each. The Piano Discovery System (Year 1, Jump keyboard and cables) sells for $219.99$249.99 (with keyboard). Jump Software, 201 San Antonio Circle, Suite 172, Mountain View, CA 94040 Phone: 1-415-917-7460. WWW: Jump! Music: http://www.jumpmusic.com/. Minimum system requirements: IBM compatible 486-66 Mhz, 8 MB of RAM, a CD-ROM drive, a MIDI compatible audio card supported by Windows, and speakers or headphones. Windows 3.1, Windows 95 is recommended. A MIDI keyboard and connecting cable is also necessary if you purchase the software only, not the complete System. A Macintosh version is also available.