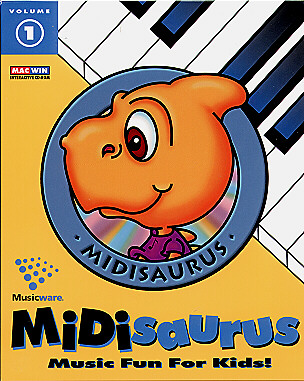 MiDisaurus is available on CD-ROM in 8 volumes, along with supplement "Focus" CD's focusing on Rhythm, Instruments, Composers and Notation. I was unable to find the program available as a set of all 8 volumes, so each must be purchased and installed separately. Volume 1 and the supplementary CDs are the ones reviewed here. With all 8 volumes MiDisaurus moves through the basics of music theory to more advanced topics such as key signatures, chord types, harmony and composition. MiDisaurus is available in both PC and Mac versions, running under Windows 95, 98 and NT, or System 7 or later respectively.
Installation and setup were simple, problem-free procedures for the Volume 1 disc. Though I did not set up a MIDI keyboard with my own system, MiDisaurus can use one. MiDisaurus ran smoothly and acceptably rapidly, with only an occasional long pause between some activities.
The only documentation received with the program was that written on the inside cover of each CD. This only included how to installation instructions for the main program, both Windows and Macintosh, QuickTime, and a MIDI instrument. Though I had no trouble installing the Volume 1 disc I reviewed, I was unable to install the other CDs in the same manner. Thus, I instead had to use the "explore" task on my computer to find the application file to load the supplementary disc programs, which I found to be somewhat cumbersome. In discussions with Musicware, we learned that they "are expecting an update patch that will resolve this problem shortly" for the Rhythm and Composers volumes.
There are limited Help files once the program is installed and running. A Help button either explains the activity at hand or pulls up categories to print an activity, check the report card feature, move ahead to the next activity, and such. There were times when I wanted to control the volume level while the program was in use, but could not find any help in doing so. The sound volume can be controlled using the Volume control on the Windows taskbar.
When MiDisaurus opens, a colorful and cute speaking dinosaur introduces you to the program. The dinosaur accompanies the student throughout the various activities included. The program stores a user log so that each time the program is used, the student's progress can be monitored and checked as desired. The program focuses mainly on teaching piano, although the supplementary discs introduce a variety of other musical concepts as well.
After the initial introduction, the student has 3 units from which to choose. Unit One covers the very basics of piano study, such as hand and finger recognition, high, middle and low sounds, 2 & 3 black keys and beginning note values. The following 2 units then build on these concepts, with Unit 3 covering Middle C Close Position, dynamics, and and a section on music appreciation which introduces orchestral instruments and the string family. Along with the lessons, each unit contains assorted activities and songs to reinforce the various concepts.The song activities were a special treat. These give the user the ability to hear the song with words, or just the music so that one can sing-along, or see a video of hands actually playing the song on a keyboard. Thus, if a student has a MIDI keyboard set up with the program, they would be able to play along as well. On my system, the piano sound was not as realistic as I would have liked, but this probably reflects the fact that my sound card is a Sound Blaster compatible FM-synthesis, rather than wavetable, type.
I found the large number of activities available in MiDisaurus to be a great plus, as it keeps the student from becoming bored doing the same one over and over again. Furthermore, students can continue answering a question until they get it right, and, thus, not feel that they are competing with the computer. MiDisaurus is simple to use, with a basic click and drag method, so that even the smallest of hands can have fun with the program. There are also a number of clickable buttons available at the bottom of the screen which make navigation through the program easy. The child can get help, play an activity over again, move back to the prior activity or lesson, or move on to the next. MiDisaurus moves at a pace that is comfortable for the young beginner, but gives the option of continuing on at any moment if the pace becomes too slow. The musical examples provided with all the activities were a great asset as well, especially with such musical forms as choral, orchestral, piano sonata, etc.
Although I was only able to review Volume 1, by Volume 8 a number of more advanced concepts are covered. These entail key signatures, the blues and pentatonic scales, harmony, major, minor, diminished and augmented chords, music composition, introduction to great composers, and keyboard playing. Although such advanced topics are taught, I found that MiDisaurus caters to the younger student, and might seem a little immature for those past 11 years of age.
The supplementary discs I reviewed were also very entertaining and filled with an assortment of musical information. The Composer disc encompassed both an introduction to various musical forms such as solo, chamber, orchestral and vocal, as well as a look into the music of many great composers. The Rhythm disc includes an introduction to various note and rest values, plus types of tempo and time signatures, and lots of activities to reinforce these concepts. The disc on Notation introduces the student to various dynamics, types of articulation, sight reading, accidentals and key signatures. Lastly, the Instrument disc conducts the student on a tour of various instrument families, as well as a look at instruments from around the world. I found this latter aspect to be most interesting as it gave exposure to instruments not likely to be known or taught to most students, and, thus, a more well-rounded view of music.
Although I felt MiDisaurus ran smoothly and was very entertaining, I did discover a couple of weaknesses that I believe are worth mentioning. The first entails the report card feature. Though this was available for the volume 1 CD, it could not be found in all the other supplementary CDs (I only saw it on the Rhythm and Notation CDs, and only on levels 2 and 3 for the Rhythm disc). The supplementary discs also lacked the capability for the student to enter his/her name at the opening of each disc, even though this is available on the Volumes 1 through 8 discs. I believe having this capability on all the CDs would allow both the teacher and student to keep track of what they have covered as well as how they are progressing. With these changes I believe MiDisaurus would be a more complete, well-rounded software program. Musicware indicates that they "expect an update patch that will make them (Report Cards) available in the Focus volumes shortly."
Having to buy all the CD's separately can be rather expensive, although, for the teacher that focuses only on the young beginners, it may be an advantage to be able to buy just the volumes necessary for their studio. According to Musicware, MiDisaurus is available in sets of 4 (Volumes 1-4, 5-8 and Focus Volumes) at reduced pricing from dealers with some offering further savings when purchasing Volumes 1- 8 or the full 12 volumes. However, there are not many good programs for the really young beginner, and due to the colorful, interactive nature of this program, plus relative ease of use, MiDisaurus would be a great program to fill in that gap.
MiDisaurus is useful for the teacher who is looking for a good supplementary program for the studio that will allow students to not only reinforce concepts they have learned in their lessons, but also explore other areas of music that might not be covered during these times. MiDisaurus should also be valuable for parents looking for a good music starter program for their young children. Overall I found MiDisaurus to be a beneficial program for the young beginner with its focus on numerous music concepts and styles presented in a fun, interactive, and non-intimidating manner. Though this program does advance to a more intermediate level, it still maintains an overall juvenile appearance and thus may seem immature for older students. Thus, I would recommend it more for the teacher who caters to the younger beginners, from ages 4 to 10 years old, as well as those parents who would like it as an addition to their child's music learning programs at home.
MiDisaurus Music Fun for Kids! Version 1.0. List price: $29.95 per CD. Town4Kids, P.O. Box 144, Redmond, WA 98073-0144. Phone: 425-869-6075 Fax: 425-869-6116. System requirements: PC: Pentium processor, Window 95, 16 MB RAM, 4X or faster CD-ROM drive, SoundBlaster compatible sound card, SVGA 640 x 480 256-color monitor, optional: MIDI keyboard. Macintosh: Power Macintosh, System 7.1 or later, 16 MB RAM, 4X or faster CD-ROM drive, 640 x 480 256-color monitor, optional: MIDI keyboard.