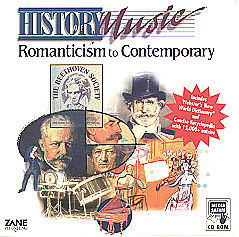 Installation of History of Music - Romanticism to Contemporary went smoothly. We experienced no problems in using it on our 486-DX2 test computer with 24 MB of RAM, running Windows 95. It is also runs under Windows 3.1 and has modest system requirements that allow it to be run on almost any working Intel-based computer. A Mac version is also available.
The main page of History of Music - Romanticism to Contemporary opens up with Vivaldi playing in the background. From the Main Page, you can select to go to the feature presentation or any one of the extra features of the CD-ROM.
A narrator tells the story of numerous composers from the Romantic up to and including the contemporary eras of music. A written form of the narration is provided on-screen as well. This allows hearing-impaired users to learn from the program. Along with the narration, the program provides a look at art masterpieces of the same time period as the composers. The art work shown enhances the discussion of the different styles of composition and provides insight into the events of the day. As the narrator discusses the composer, his music and life, music plays in the background to help emphasize the details of what is presently on the screen. For example, when discussing nationalism in music, music by Bartok, one of the prime exponents of nationalistic music, plays in the background.
This software touches upon all the music that each composer has written, and chooses one or two important works by the composer to discuss in detail, such as Berlioz's Symphonie Fantastique, Beethoven's 9th Symphony, or Strauss's opera Salome. While it would have been desirable to hear even more music examples, it is understandable that some choices had to be made, and many examples of great music written by each composer had to be left out.
We were particularly impressed with the approach of explaining in detail the information about the composer, the world in which he or she lived, and the economic, social and political events that helped shape the composer's music. For example, the revolutionary times of Beethoven's life and how it effected and influenced his composition of the Heroic Symphony are well described. The connections between the explorations and understandings of the human subconscious in the work of Freud, which influenced many early 20th century composers, such as Richard Strauss (the opera Salome) were similarly explicated.
The discussion of 20th century music does not end with music of Stravinsky or Bartok, but includes music written by John Cage, Phillip Glass, Edgar Varese and many other contemporary classical composers. It includes several 20th century American classical composers - something that is often glossed over in music history books and classes. Excellent as the overall coverage is, we would have preferred to see more discussion of women composers. Clara Schumann was included on the disc, but many fine composers such as Fanny Mendelssohn and Amy Beach were not included.
An excellent discussion and explanation of music terminology, form and analysis, music structure and styles is included in History of Music - Romanticism to Contemporary. This includes topics such as tonality, dissonance, consonance, rhythm, form and analysis, and styles of composition. Also included was a good discussion of the evolution of the piano and the impact its development and improvements that were made on it made on the development of the Romantic era in music.
History of Music - Romanticism to Contemporary provides a question and answer section that allows students to test their knowledge. The testing included detailed questions about all the composers and their music, musical forms, different musical styles, and history and culture of the different compositional eras. The format is multiple choice where wrong answers are met with an explanation of what is wrong with the answer given by the user, rather than simply providing the correct answer. This "Socratic dialogue" approach helps students find their own answers and forces them to learn from their mistakes. This section includes not only musical questions, but also ones on art, architecture, science and so forth. These are taken from Webster's New World Dictionary and Concise Encyclopedia, included as a bonus on the disc.
We used the program for several months with students in our teaching studio. Students of junior high school age and up liked virtually all aspects of it and were able to use it without problem. They particularly liked the testing section of the program. Most younger students would probably need an adult sitting with them to get maximum benefit from the software.
The many virtues of History of Music - Romanticism to Contemporary, especially when considered in light of its low $8.95 price and minimal hardware requirements, should make it an invaluable addition to a personal or teaching library of music software. Better yet, you can pick up the entire History of Music collection of 4 CD-ROM's for under $30. Either way, you'll learn a lot and enjoy the experience.
Nancy Ostromencki and John Zeigler
History of Music - Romanticism to Contemporary, 1995 Zane Publishing Inc, Available from CDAccess.com, 12201 Saratoga Sunnyvale Road, Saratoga, CA, 95070. List prices: History of Music - Romanticism to Contemporary, $8.95; History of Music Collection (4 CD set), $28.95. E-mail: info@cdaccess.com. Telephone: Toll Free Orders - 1 800 959 5260, General Queries - (408) 366 6700, Fax - (408) 366 9066. System Requirements: Windows - 386/33 with Windows 3.1 or higher (Windows 95 compatible), 4 MB RAM (8 MB recommended), CD-ROM drive (double speed recommended), VGA (SVGA 640x480, 256 colors recommended), mouse and sound card recommended; Mac - 68030+ Mac (256 colors recommended), System 7+, CD-ROM drive (double speed recommended), 8 MB RAM.