ere is a user-friendly package that is both extremely versatile and exceptionally easy to use. Programmed for seven stringed instruments as well as keyboard, and ranging in difficulty from elementary to advanced, Music Goals by Eye and Ear consists of a series of activities that train and test eye, ear, memory and response time in the fundamentals of music reading, theory and ear training. It can even be used with a MIDI keyboard (not included) for answering the keyboard questions and to learn basic functional piano skills. This is a program, obviously designed by thorough-going professionals, which does all it promises and does it well.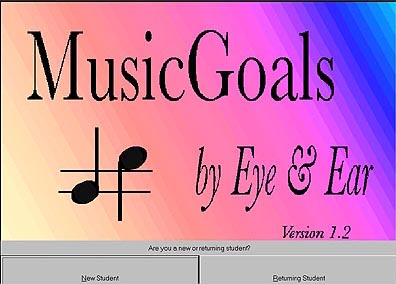 The package for

Music Goals by Eye and Ear contains a manual and two 3.5" floppy disks. Installation on our Micron Millennia 200 with Windows 98 was quick and went without a hitch. The user manual is clear and detailed—so comprehensive, in fact, that we found it quicker to monkey around with the program itself for awhile and use the manual for reference. Everything on the screen is explained as you go; it is easy to follow and presented in large, uncluttered graphics that are especially suitable for young children.

MusicGoals begins by setting up an individual progress file. The student then picks a primary and a secondary instrument and proceeds to select objectives from 62 goal activities covering note reading, scales, intervals, chords, Roman numeral identification, key signatures, clefs, solfeggio, melody, compound intervals, and both open and closed harmony. Each activity comprises a series of short tests of increasing difficulty, combining staff notation, ear identification and using the pre-selected instrument individually. Most answers can be given three ways: with the mouse, from the computer keyboard, or from your attached MIDI instrument. The computer space bar can start and stop a drill or close a dialog box.

The activities increase gradually in both difficulty and sophistication, and are thus suitable for a wide range of users, from young children through teenage intermediates and even adults. An unlimited number of students can maintain their own files, which show progress and store individual settings. Mistakes and areas of weakness are kept track of, and users can even design and program their own tests. One can also pause at any point in an activity to practice a particular skill without having to start the current series over again.

The Help menu does not contain a general index; we assume this is because every aspect of the program is exhaustively covered in the printed manual, and because a context sensitive help window can be brought up at any time by pressing F1. Moreover, on every screen there are "hint" and "?" (help) buttons as well as a slider to adjust the tempo; the ear training activities also have a Replay button.

Once or twice the pictured keyboard did not have enough range to answer the given question, but these errors were quite rare. All in all, MusicGoals is difficult to fault. We recommend it highly.

Music Goals by Eye and Ear can be downloaded in 15 minutes with a 28,800 connection from the MusicGoals web site (it took us three tries to get it unzipped, though). They have a very detailed description online of the entire program.

Dr. Bill Leland

MusicGoals by Eye and Ear, version 1.2, list price: $39.95 plus shipping and handling. Singing Electron, 13901 Balsam Lane, Dayton MN 55327. E-mail: sales@musicgoals.com. WWW: www.MusicGoals.com. System requirements: IBM-PC or compatible, Windows 95, 98, ME, NT4 or 2000, 16 MB of RAM, 4 MB hard disk space, and a sound card for speakers or headphones. MIDI keyboard optional.