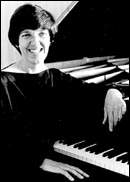 Melba Halamicek
Melba Halamicek, Instructor of Piano at New Mexico State University and well-known as a piano teacher and performer, lost her life in the Organ Mountains on Saturday afternoon, January 21, 2006, while hiking with a friend. She served the NMSU Music Department for nineteen years as Coordinator of Functional Piano, a required three-year course which she designed and administered. She was much admired for her piano accompanying and ensemble playing, in which capacity she performed for many years in this area and in Colorado, Nevada, Texas, Arizona, California and Indiana, including many duo-piano recitals with her husband of 23 years, William Leland, former NMSU piano professor.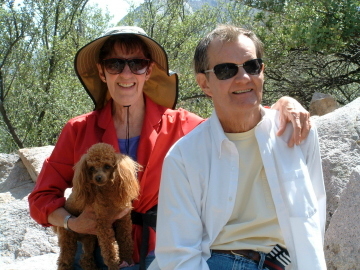 Melba, Chaco and Bill in Spring 2005 on Baylor Pass Trail,
east side of the Organ Mountains, southern New Mexico
She was born Melba Ann Gilliatt in Bedford, IN , on November 24, 1940, graduated from Mitchell, IN, High School in 1959, and moved to El Paso shortly thereafter. In 1973 she completed four years of study at UTEP and was awarded the Bachelor of Music in Piano, after which she attended NMSU and received her Master of Music in Piano Performance in 1975.
In addition to her husband, survivors include two children by a former marriage, Yvonne Denzler of Las Cruces and Jeffrey Halamicek of Las Vegas, NV; one grandchild, Abel Harding of Las Cruces; and three stepchildren, Darrell Leland of Albuquerque, Evan Leland of Austin, TX, and Caroline Ruiz of Phoenix, AZ.
Melba was a free spirit, and one of her lifelong passions was strenuous physical activity, preferably outdoors. As early as age eleven she could be seen riding her horse, Papoose, bareback through the fields of southern Indiana, or purposely riding out a thunderstorm on a high branch of her favorite tree. Beginning in early adulthood, she took regular ballet classes for over twenty-five years, and more recently became an avid jogger, swimmer, and mountain climber. On December 3rd of last year, with the aid of a veteran climber, she achieved her ambition to reach the top of Organ Needle, the range's highest peak. Yet few people know that for many years she fought and conquered several life-threatening and potentially incapacitating illnesses of long duration.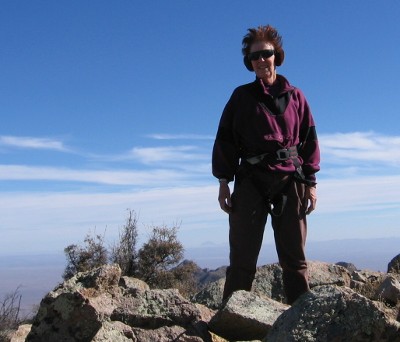 Melba at the summit of Organ Needle, 9020 feet above sea level
December 3, 2005
Melba's life, both professional and private, was marked by an uncompromising honesty and determination. She held herself to the highest standards and demanded no less from her students, yet always with fairness and sometimes offbeat humor. She was deeply compassionate, and would never hesitate to rush to the aid of a friend, relative or neighbor in times of crisis or bereavement.
In accord with her explicit wishes, cremation has taken place without ceremony at Graham's Mortuary of Las Cruces. A private celebration of her life and spirit will be held at a later date.