Time Signature was available for Windows NT and XP as Time Sig, using a standard Windows interface. Due to an accident involving the publisher, neither version of Time Signature is available now.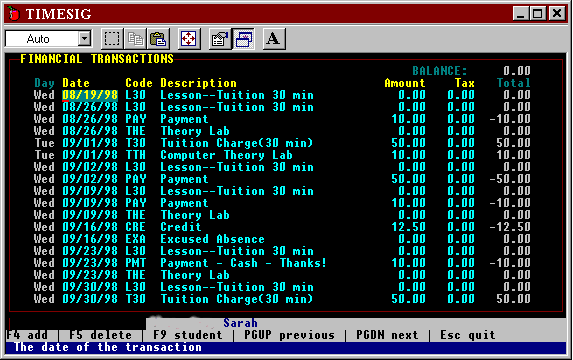 Following the directions in the manual, I found it easy to install and run Time Signature under Windows 95. Icons and a Start menu entry for Time Signature must be created manually using Start, Settings, Taskbar..,Start Menu Programs, Add. The installation program does not do this automatically. Unlike some DOS applications, the program can be run in either full screen or windowed modes and can be multitasked with other applications under Windows 95. Even though it doesn't use the standard Windows interface, Time Signature's DOS interface is clear and easy to master. The manual recommends that you read it in its entirety before inputting your studio information. I did this and I was grateful that I had read the manual first, especially in light of the fact that the program has no built-in Help function. When I contacted the manufacturer by e-mail with some questions, I received a very prompt response.
Time Signature is divided into 4 main sections – Students, Studio, Billing, and Reports. You should begin the program with the Studio section. This section has two parts – the Studio Schedule and the Studio Description. You will need to complete the Studio Description before going to any other area of the program. Here you enter your teaching calendar and all of your lesson and miscellaneous fees. The manual provides examples to help you get started with this process. You can add new information to the Studio Description after you initially set it up, but if you alter something, the program will not automatically update the old entries. The Studio Schedule section will be filled up after you enter your students.
The Students section is comprised of 6 categories: Lessons, Financial Transactions, Performance Events, Student Profile, End of Term, and Backup Your Data Files. Information for each student, including the billing address, is entered under Student Profile. The Lessons section lists all the scheduled lessons for each student and provides a place for you to record progress notes for each lesson. Lesson times can be added, deleted, or modified here as well. Financial Transactions records account information for each student. After you record a lesson, it will show up in that student's Financial Transaction record. You can also enter extra fees here as well, such as sheet music, subscriptions, etc. In the Performance Events section, you record what music your students have played for various events. End of Term is used at the end of your teaching year to officially end the record keeping for that term. Backup Your Data Files is another housekeeping function for end-of-month record-keeping.
The Billing section has 4 areas: Statements, Student Account Detail, Transaction Register, and End of Month Process. When you select Statements, the program offers you the choice of printing statements or saving them to a disk for export to a word processing program. You can choose one or all students by using the keyboard function keys that are a valuable timesaving tool in this program. Time Signature uses the same function keys throughout, so once you know them, you've learned them for the whole program. The Student Account Detail is printed at the end of the month as a record for you of what happened in each account. The Transaction Register contains all the transactions during a specified time period arranged by your account codes. The End of Month Process is done after you've printed all your other monthly documents. After you select this, you may not delete any transactions already printed on a student's statement. This functions to close the month's business; items already printed on a statement will not be reprinted on the next statement.
Time Signature is not a substitute for a bookkeeping program, although it is easier to use and more focused on the piano studio than a standard bookkeeping program. Its database is in a spreadsheet type format that can be exported to other spreadsheet programs, but not to other bookkeeping programs, unless they support import of spreadsheet files. The program does not claim to meet "generally accepted accounting practices" (GAAP), so you should check with your accountant if you have your books audited regularly and want to use it.
Time Signature's billings look good enough on their own to send to your clients. The billing address lines up so that you may use business-window envelopes. Unfortunately, you cannot customize the billing output with your studio logo or other graphics; this is one of the reasons that you might want to send the billing data to a word processor program. Billing customization is an area that should be addressed in an update. It's inconvenient to send data to another program to produce customized bills.
The Reports section provides several types of reporting – Daily Studio Schedule, Monthly Studio Schedule, Student Roster, Tuition Lesson Summary, Mailing Labels, Student Profile, Student Lesson Schedule, and Progress Notes. When you select any of these options, you will be given a choice of printing out the information or sending it to disk.
Time Signature is useful to the teacher who teaches private or group lessons, but it has a limitation for group lessons in that it only allows for one student at a given time. For overlapping lessons, I used the workaround of recording one at 6AM and another at 6 PM. This worked well for me, but may be a problem for teachers who have exceptionally long teaching schedules involving group lessons.
I found Time Signature to be very useful. The initial set-up is time-consuming but, once it's done, you can just update it as necessary. It takes about 10 to 15 minutes after a day's lessons to record progress notes for each student's lesson. My parents are impressed by how organized I now seem. They appreciate having a written record of the lessons and materials used with their children. I also keep much better track of small fees for books and materials. If you need help in managing your studio and you're willing to forego the familiar Windows interface, Time Signature may be just the software you're looking for.
Time Signature, version 1.1a. List price: $119.95, plus $7.95 s/h. Casa de la Musica