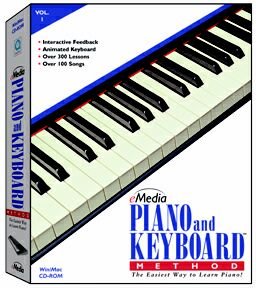 Installation of the software was smooth and took less than a minute. Once installed, it ran flawlessly throughout our entire in-depth review. There are no fewer than 316 individual lessons, grouped into 12 chapters, plus an introduction that explains symbols, commands, and the many options available. In addition to the basic content of each lesson, one can call up an audio or even a video of the selection being played, a controllable metronome, spoken comments and corrections, highlighting and looping of excerpts, and prerecorded accompaniments. With the optional keyboard, one's own performance can be recorded and corrected. Yet, even with a host of features at the user's command, the presentation of materials is so smooth and logically ordered that one never feels confused or overwhelmed. The layout of every screen is essentially the same, and operation of the link buttons becomes second nature. At the same time, thankfully, there are no annoying pop-ups; the user is in charge at all times.
Chapter One introduces the basic concepts of rhythm, sound direction, and meter signatures, using small groups of two or three black keys. With Chapter Two we move into C Major and pretty much stay there for the next 160 lessons, but along the way there is a logical progression through note reading, tempo, dynamics, sight reading, ear training, intervals and chords, subdivided and dotted rhythms, and slurs. The next two chapters introduce the keys of G and F Major, with transposition, and the following two chapters cover extended hand positions, scales, and arpeggios. The final chapter gives us a brief excursion through music history, with examples of different styles. The lessons progress well into the intermediate stage and cover material that normal size hands and older children and even beginning adults would get. All in all, the design of the course is as logical and efficient as you will find anywhere.
We do have some reservations about the actual teaching method, however. In a word, it was somewhat startling to find such a flawless and well-organized program wedded to a pedagogical approach that harkens back to the Thompson and Schaum days. Notation, for example, uses good old Middle C as the 'landmark.' The lines of the treble staff are taught with the hoary mnemonic, "Every Good Baby Does Fine" (the bass staff is "Good Babies Do Fine Always"; its spaces are "All Cows Eat Grass").
In fact, the overall style of presentation, while always clear and precise, seems aimed at very young children. Anyone over the age of five is likely to be put off by such instructions as, "Let's hop down! As you hop, say down...down...down", or being asked to sing the "Hop and Skip Tune" ("Hop up, hop up, skip down, skip down", etc.) Flash cards are employed, and much use is made of counting and singing aloud the names of notes and beats, including subdividing with the word "and". Fingers are to be curved "at all times" (an anatomical impossibility in extended positions); staccato is to be played "as if touching a hot stove"; rhythms must be clapped and counted. Some of these old methods are now considered dated. Also quite dated are many of the melodies: "Hot Cross Buns", "Go Tell Aunt Rhody", "Old Gray Mare", and similar selections not likely to be familiar to students of today, though later on we do get some well-known themes of Haydn, Beethoven, and other great composers, as well as a few examples of gospel, ethnic, jazz, pop, and rock.
All in all, however, the eMedia Piano and Keyboard Method does what it sets out to do extremely well, and many teachers will find it imaginative and useful for teaching young children, in particular, in a studio setting. It's also a good self-teaching tool with effective online Help and would work fine in the home. There is no question that a great deal of solid knowledge and loving care has gone into its creation. Even given the old fashioned method and some outmoded technique, it's a very sound program superbly put together. For those who would like to try the program before buying, a demo of eMedia Piano and Keyboard Method is available from the eMedia web site (Windows version or Macintosh version).
Dr. William Leland
Piano and Keyboard Method, Educational version, list price $99.95; Consumer version, list price $59.95 Learn to Play Keyboard Bundle with MIDI Keyboard $149.95 and up. eMedia Music Corporation, 664 NE Northlake Way, Seattle, WA 98105. Tel. 206-329-5657; Fax 206-329-0235. WWW: http://www.emediamusic.com. E-mail: custserv@emediamusic.com. Windows or Mac. Min. Requirements: Windows: Pentium PC, Windows 95/98/NT/2000/Me/XP, 32 MB free RAM, CD-ROM. Macintosh: Power PC, System 7.5.3+ or OS X10.2+, 32 MB free RAM, CD-ROM.